Dorian Hotel -
Ölüdeniz
Our hotel was established in Belcekız and it is 350 m. to the beach and also 500 m. to Olüdeniz bay. Besides this we have a private beach and it is provided to get to the beach and enter for free. We have rendered our service since may 2006 to supply the holiday that was dreamed and waited for during the year. By our dear guests' support, we want to get bigger and bigger year by year and improve our service quality to make your holiday unforgottable and create wonderful times of yours. We are ready with our brand new concept, buildings and identity of DORIAN for you.
Our hotel has 105 rooms with the capacity of 240 beds at the quality of 4-star hotels. We serve all inclusive service.
Our restaurant has open and closed areas and also special chairs for your babies. In the pool bar an the rooms the satellite is available. You can taste the different Turkish meals during the day.
Some of the activities which are done at the hotel are table tenis, dart, billards and the Turkish night.
Each room has a balcony, a phone, an air conditioning, a TV, a minibar, a shower and a hairdryer. All of our rooms has a mountain,a garden or the sea view. There are two kids pools and two adult pools. One of these pools with its garden,sunbathing area is bigger than the other pools in the other hotels in Ölüdeniz.
The park area is available at our hotel. The rooms are suitable for four adults or two adults and one child. Also fort he babies,the beds are available.
You can get a safety box in your rooms, room service, internet, jakuzi, faxsmile or the laundry service for extra payment.
Hotel Facilities
105 Rooms, 240 Beds, Swimming Pool w. Childrens Section, Pool Bar, Bar, Wireless Internet, Darts, Table Tennis, Billiards, Entertainment
Room Facilities
Mini Bar, Television, Air Condition, All Rooms w. Shower & Toilet, Direct Dial Phone, BAsketball
Address
Belceğiz Mah.,Ölüdeniz, Fethiye,
48330
Muğla
Turkey
Phone:
00 90 252 6170179
Fax:
00 90 252 6170193
Email:
info@dorianhotel.com
Web:
www.dorianhotel.com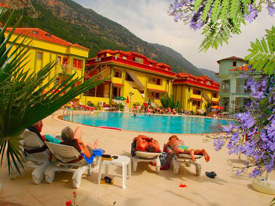 Booking Enquiry

Stay at this hotel
Hotel Pictures