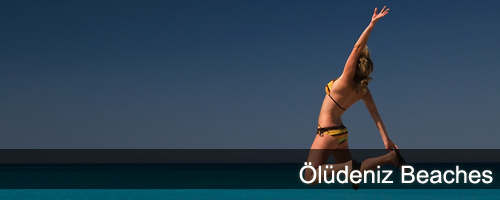 OLUDENIZ BEACHES
Oludeniz
Oludeniz is located on the South-Western Turkey at the foot of the Taurus Mountains. Its costline is very long and is scattered with numerous sandy beaches and tiny coves.
Here we listed all the beaches of Oludeniz area.Some of them you can go to by car (indicated by the car icon) and some only by boat ( indicated by the boat icon).
Belceğiz Beach


The local beach of Oludeniz. When you just walk down from your hotel to the sea it is the first beach that welcomes you. The entrance is free but you pay for your sunbeds and umbrellas... The sea here is wavy sometimes but always clear. You can watch the paragliders land on the beach, or hire canoes in the sea. This is also the beach where the boat trips start.

Blue Lagoon (Kumburnu)


This is probably the most picturesque beach in the world. Walk along the main road and you will come to a gate ... The entrance to this national park is with fee...The sea is very shallow so it is perfect for little ones.The weekends are always busy, as are bank holidays, but you can always find a nice spot during weekdays here...There are restaurants and bars on the beach where you can have your lunch.

Gemiler Beach


10 minutes drive further than Kayakoy village and you reach a bay surrounded by pine forests. This is Gemiler bay. The beach is opposite St. Nicholas island - these early christian ruins are well worth a boat trip to see them. Gemiler bay is also used by local fisherman. You can buy their fresh catch and the restaurant on the beach will cook it for you, cant get fresher than that. This is the only beach where you can do water sports like jet ski, banana or ringo.

Camel Beach


Opposite the cold water springs and so named because of the rock formation night time siluate - camel. Accessible only by boat, you can visit here on a daily boat tour or by private speed boat. The moonlight cruises also stop here for night time BBQs. If you are looking for a quiet secluded beach, camel beach is perfect for you.

Darboğaz (Beştaşlar) Beach


This small, pebbly beach is a favorite for locals as it is small and quiet. The beach lies opposite Gemiler beach and is accessible by boat. You can get a lift to this beach from Gemiler for a small fee and boatman can pick you up later.

Mersinli Beach


Although you can reach this beach by foot, it is a very long walk from the lagoon. It is much easier to access this small beach by boat. The beach is very good for fishing and camping. Miersinli is never busy as it is not well known

Kıdrak Beach


This beach is easily reached by car. Simply drive towards Faralya from Oludeniz, and in about 2km you will see this lovely beach. The beach has an entrance fee, but no sun beds or umbrellas so you would need to take your own. During the week the beach is almost deserted, but is a popular place for locals to spend their weekends having BBQ on the beach.

Faralya Beach


This is not a typical beach since it is mainly rock face, not sand. Rocks are flat and you can lie on them, but the beach is really ideal for fishing, snorkeling or diving. Ask for directions from a local in Faralya village but be warned, this beach is really quite difficult to drive to in the normal car but okay in a jeep.

Kabak Beach


f you continue to drive through Faralya ( away from Oludeniz) you will reach Kabak beach about 10 km after.You can also get a dolmus from Oludeniz to this beach. This is a popular beach for youngsters and travelers all around the world. There are several camps on the bay if you decide to stay overnight and really chill out. It is easy to drive to Kabak, but more difficult by boat do ask for direction and take care as there are reefs below the surface that can be dangerous.

Paradise Beach


The name says it all. My all time favorite beach as it is so quiet and unspoiled. This is the furthest beach from Oludeniz (about one hour on boat). Paradise beach is perfect for diving and snorkeling as the bay is full of fish. It is surrounded by pine forests so there is plenty of wood supply if you decide to camp and BBQ.

Back To The Top